Image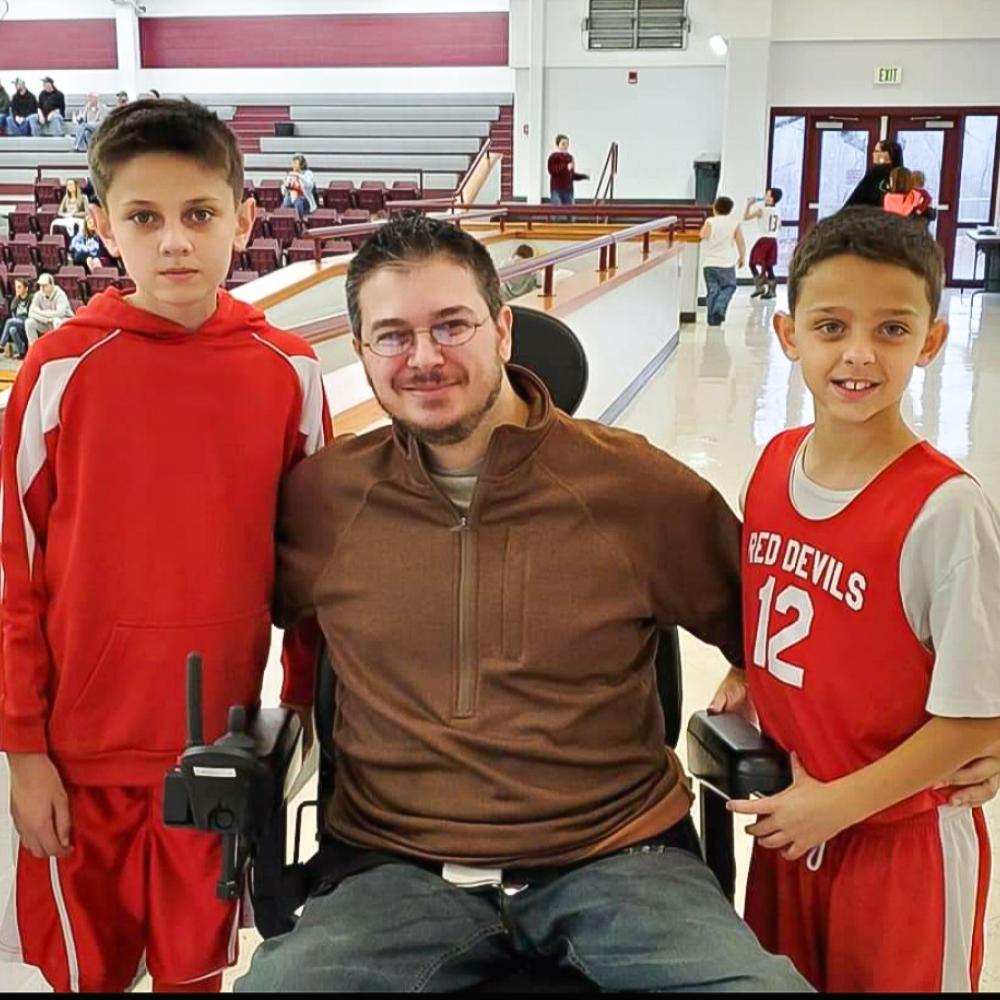 Balancing fear and love: Parenting with LGMD
Living with LGMD is tough. So is single parenting. With the help of a strong support network, Greg, 36, does both with humility, grace, and fortitude.
---
"I've lived here in Hot Springs, Arkansas, my whole life. I have my parents next door, and my grandma, my cousin, and my aunt and uncle, all on this road. It's named after our family...That's about as country as you can get, isn't it? And, of course, my boys are here, now, too. Luke, he's 10, and Gavyn's 12.
When I was 22, I noticed it was getting harder to lift things. Getting on a forklift was difficult. I'd get home and I'd be in a lot of pain the rest of the night. I went to a bunch of different doctors, but it took two years to get a diagnosis.
When I found out it was LGMD, I was kind of in shock. I told my wife at the time and she broke down. We were pregnant with Gavyn at the time, and I was really worried. That's when I had the genetic testing done.
To be honest, I was depressed for a while. The thought of my kid coming along, that kept me going, although I was afraid of not being able to do things with him when he got older, like play ball. I played shooting guard and point guard. That's what my youngest boy plays, now.
After we had Gavyn, I still wanted another kid, even though I was scared. I enjoyed Gavyn so much, I wanted him to have a brother or sister, but we decided together that we'd stop at one. But then we had our surprise baby, Luke. I call him my miracle baby. It crosses my mind every day that my boys might have LGMD. But they're in good health right now. I'm grateful for that.
My boys are my life. I can't do as much as I'd like to with them. It still bothers me that I can't play basketball with them, but I try to teach them by word instead of going out there and practicing with them. At least I'm still able to drive, I have a wheelchair accessible van, so I can go to their games. They're energetic, so they wear me out sometimes. But we have a great time. We're happy together.
There are some days when they want to go do something and I just physically can't, I'm in too much pain or I'm too weak, and they'll be a little disappointed. I'll tell them, 'We'll try another day.' For the most part, they're very understanding.
I know they're not old enough to fully understand the nature of the disease or what I'm going through. But I try to explain. 'I'm still your father. I'm here to take care of you, and I'm here to make sure you get to school and make you dinner and all that. But there are some days when you're going to have to be a little bit more mature. You're going to have to help Dad out.' I try to be straight up with them about it as much as I can.
I'm not going to lie and say every day's great, but I know I can live with limb-girdle. There are days when I'm a little cranky, and my body hurts. I want to get down on myself. But when I start feeling that way, I try to think of the positive things.
I'm grateful that I'm here to teach my kids to recognize when someone is in pain or suffering, to help someone who's going through a hard time. I try to tell them how much I appreciate them. Hopefully that will help them later on; maybe it'll show them to help people in the future."
---
After his diagnosis, Greg earned degrees in Accounting and Business Management. Although Greg no longer works outside the house, his full-time job is being the best Dad to Gavyn and Luke, who keep him busy and motivated.