Image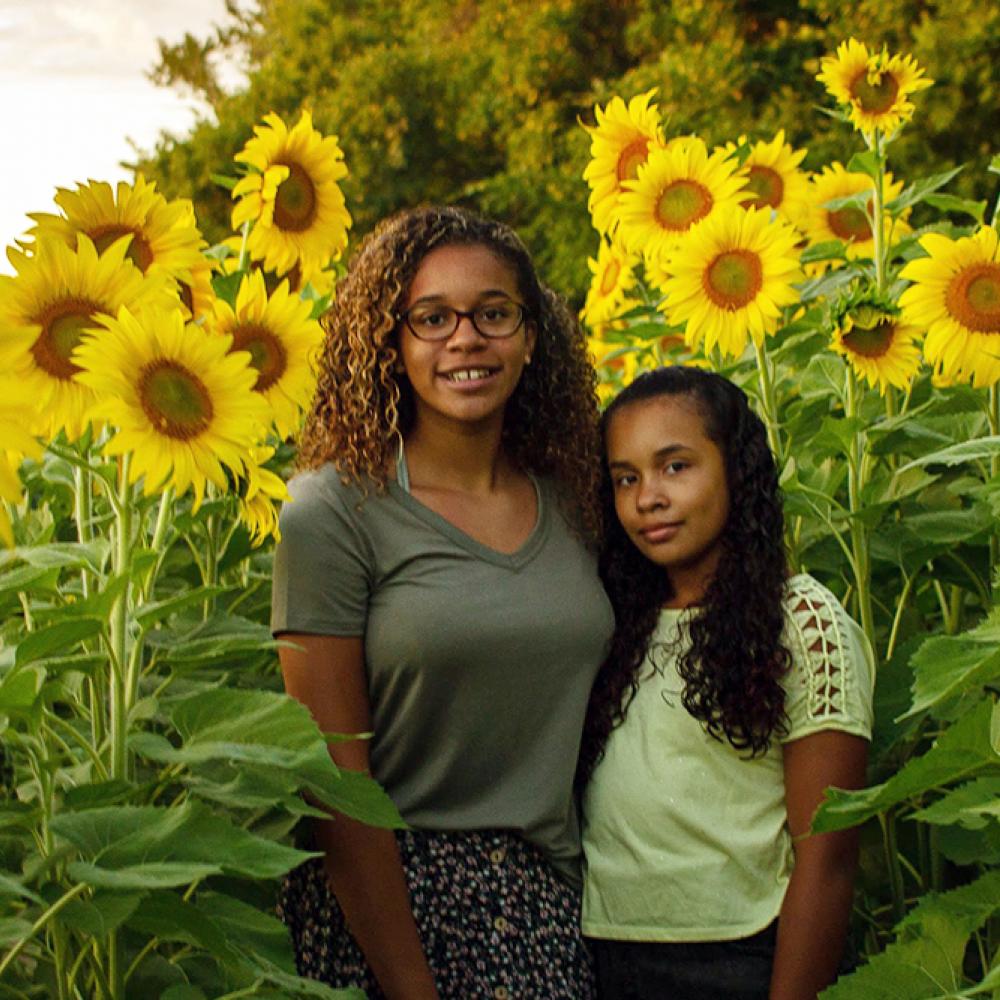 The early days after an LGMD diagnosis
Nicole, mom to Trynity, 12, and Tyana, 10, is seeing double after both daughters are diagnosed with limb-girdle muscular dystrophy. She shares her post-diagnosis perspective with the LGMD community.
---
"We just found out about my girls' diagnosis in the past six months so we're totally new at this. And the only reason we found out is that my oldest daughter, Trynity, had to do a bunch of lab work and her liver enzymes were high.
At first, the doctors—one was a gastrointestinal (GI) doctor because she was having a little stomachache—they thought maybe her stomachache had something to do with the liver enzymes being up. They were actually going to do a liver biopsy, which thank God, they didn't because it would have been for nothing. To make a long story short, we kept checking her liver for six to eight months.
I finally talked to one doctor and he said, 'I'm going to check her CK levels, out of curiosity, to rule out anything.' The CK levels came back very high and then it was a whole different journey. Our doctor mailed Trynity a genetic test kit and it actually came right to our door. It was the saliva test. Then we mailed it back. Waiting for the results felt like an eternity, but I think it was only four to six weeks.
I got a phone call from the genetic counselor, and he said, 'We finally have answers. It's a muscular dystrophy called limb-girdle muscular dystrophy, type 2E.' I wasn't familiar with LGMD, so it was definitely very scary. Then, they tested my youngest daughter and that's how we found out she also had the same kind of limb-girdle muscular dystrophy. Trynity has only seen the neurologist once, and because of the pandemic, Tyana has only ever talked to the doctor through a video call.
The only signs and symptoms they're showing is when they play sports. Their legs get sore. The neurologist says they can still play basketball if they want. Actually, we found out Tyana had LGMD in the middle of her basketball season, so we told the coach that she could play five minutes, then sit out five minutes. The neurologist said, 'Don't let them stop being kids. If they want to play basketball, let them, but just tell them to listen to their bodies.'
For the most part, the girls are coping pretty good. They know what they have. I don't know if my youngest knows too much about LGMD yet. Some days are good days and then some are definitely bad, where I'm constantly thinking about it, you know? I try not to Google anymore. Sometimes it can show more negative things than positive, and maybe not all the information is true. I don't want it to keep messing with my head.
I go on limb-girdle sites. I'm following a bunch of stuff on Facebook, like the Speak Foundation Facebook page. I go to see how many other people have LGMD, their signs and symptoms, and then compare and contrast to see what other parents are noticing. I've learned that LGMD affects everybody so differently. That unknown is the hardest.
It's definitely hard. I talk to my husband. I'm really close to my mom and dad. They live five minutes up the road. They try to be strong because they're very close to my girls, as well. My husband and my mom have said, 'Live in the moment. Take it day by day.' That is helpful for sure. And, of course, my best friend tried to be strong and says, 'We'll get through this.' All of that is helpful. I pray a lot and that gets me through it."
---
Like many parents trying to navigate a diagnosis of LGMD, Nicole and her husband, Shawn, are already uncovering and connecting to a supportive online LGMD community. There, they find plenty of parents and advocates ready to share support, their own LGMD experiences, and tips and tricks for the newly diagnosed.