Image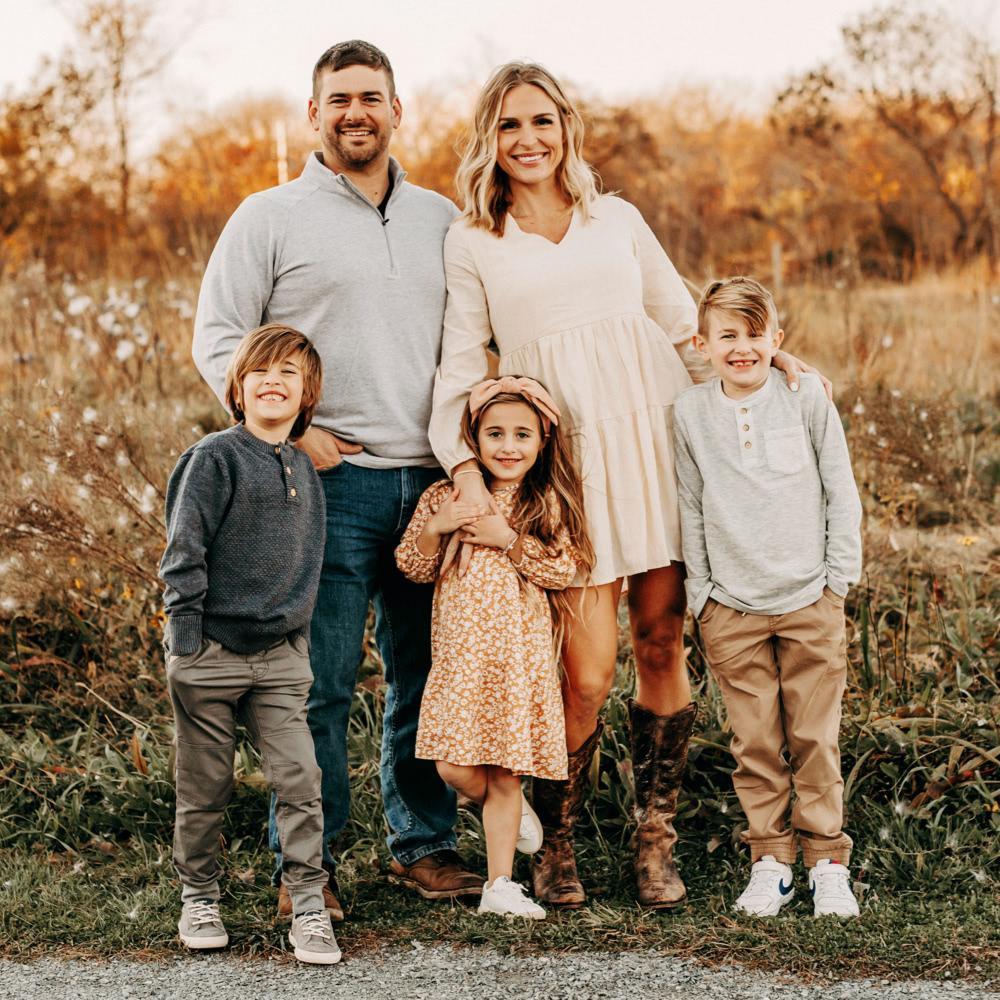 In their search for LGMD answers for their kids, one family stops at nothing
Because it's hereditary, limb-girdle muscular dystrophy (LGMD) can sometimes affect more than one family member. Courtney and Joe have three children, two of whom — Peter, 10, and Maggie, 7 — were diagnosed with LGMD. As the family adjusts to this news, mom and dad are focused on supporting their kids right now, while searching for opportunities that might affect their future. Here's Courtney and Joe's story.
---
Courtney: "My husband Joe and I have three wonderful children. They have a strong connection with one another, despite having very different personalities. Peter, our oldest, has never been a super active child. His hand-eye coordination is great, and his interests are more around using his hands to build and create. At 6 or 7, he could climb ladders and run around without problems, but around 8, he started slowing down when running and playing with his friends and Luke, his younger brother. This was new. I felt like something was wrong. His tripping and falling were starting to look less like he was just a clumsy kid and more like something else was going on.
I leaned into my background as a nurse and my intuition as his mom. One night, unable to sleep, I found my mind swirling with thoughts about the changes I'd recognized in Peter. Then it hit me: this could be the childhood onset of some kind of neuromuscular disorder. I had limited knowledge about it, though, so I reached out to our family doctor. That started our journey. Blood work showed that Peter's creatine kinase (CK) levels were high. This can point to damage to the muscles.
Things moved quickly from that point, and we were referred to neuromuscular teams at a children's hospital. The teams we met with did a complete evaluation of Peter, including a few more blood tests, so that we could start ruling out neurological disorders. If we could rule most of these out, all signs would likely point to some type of muscular dystrophy (MD).
During this time, we also had genetic testing done to test for the most common type of MD, Duchenne muscular dystrophy (DMD). More than 50 percent of MD diagnoses are DMD, and it predominantly affects boys, so it made sense to check for it. Peter's test came back negative for DMD, and it was at this point that our doctor mentioned limb-girdle and other rarer forms of muscular dystrophy. The genetic testing confirmed limb-girdle muscular dystrophy (LGMD) 2C.
As we learned more about LGMD, and understood what was going on with Peter, Joe and I noticed that our youngest, Maggie, was also showing early signs of LGMD. We knew we had to get her tested. She had been walking on her tiptoes, which would have been easy to dismiss because she takes ballet and is so often on tiptoe, but it can also be a sign of LGMD. Maggie's genetic testing came back positive for LGMD2C, too.
At this time — and with the discretion of our pediatrician — we have decided not to do genetic testing for Luke, our third child. Luke isn't showing any symptoms that we've seen in Peter and Maggie. If we don't see any concerns in the future, he can do genetic testing at 18 for his carrier status.
Since getting the kids' diagnoses, Joe and I have been relentlessly researching and pursuing any and all options for Maggie and Peter. We wanted to learn everything we could about this disease, from every angle — reading medical journals and current research data, hunting for the best medical team, reaching out to LGMD advocacy groups, working with our state legislators, attending webinars and conferences. You name it. Joe has been knocking on every door, learning about research into gene therapy for LGMD and finding out what studies we can enroll our kids in.
We try to help them in their everyday lives. Peter is very stoic and plugs along even when asked why he's so slow. He's willing to tell his friends, 'Something's wrong with my legs; this is why I can't run, and I trip and fall.' We've worked with Peter's school to ensure he's in a classroom with his good friends so that he has the support he needs from them. They'll see him trip and fall, and they'll scoop an arm under his arm and help him up. We also have great support from our big, extended family, who help us manage our needs as we pursue options.
It's important to us that we give our kids age-appropriate information about their LGMD. Peter knows we're looking for options to help him in the future. Because she's younger, Maggie doesn't know much yet, but she will get to watch her big brother go through his journey, which may look very much like what hers will be. For both of them, we're trying to instill a sense of hope.
Our goals are to keep our kids as active, engaged, and motivated as possible. These early habits are going to help them as their symptoms progress. Joe and I are determined to advocate whenever and wherever we can for our kids. Whatever needs to be done, we will turn over every stone if it seems like there's a chance it can help to propel the science forward."
---
Courtney and Joe plan to focus on keeping normalcy and routine a part of their family life while continuing to adjust and advocate for their kids. They recently launched the Dion Foundation, a nonprofit dedicated to increasing awareness of LGMD and other rare genetic diseases.