Image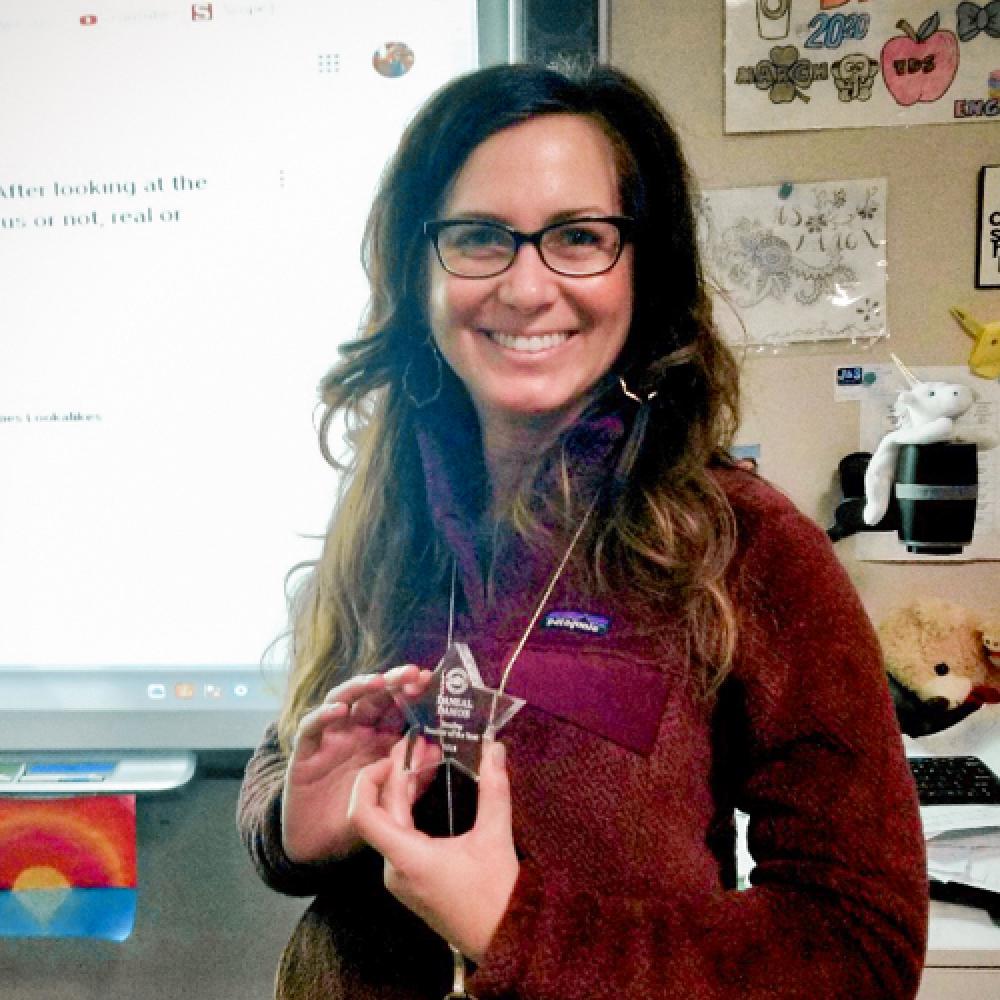 Teaching what she knows
For some people, receiving a diagnosis of LGMD can take many years. For Daneal, whose symptoms began in childhood, it took more than three decades—long after her teaching career had begun—to learn that she lives with limb-girdle muscular dystrophy. She shares her thoughts about the journey.
---
"When I was seven, my pediatrician sent me to a neurologist, who did muscle tests and a biopsy and diagnosed me with a metabolic muscle disease. That's what I thought I had. But in middle school, it got even harder to run, climb stairs, and get up off the ground. As I grew older, even though I was still getting weaker, a doctor told me there was nothing she could do.
It took me a long time to find someone who would address my symptoms. Finally, when I was 28, I met a muscular dystrophy doctor who suspected I might have limb-girdle. Back then they had to test each gene, and the initial tests didn't show any mutations. But a few years later, at the age of 35, I did a gene panel, which proved he was right: I had LGMD2D.
I'm 40 now and still walking, although I can't walk long distances and sometimes use a mobility scooter. It's become difficult for me to lift my arms, so I use straws for drinking since I can't easily lift a glass. My mom lives with me and helps with cleaning and making my bed—fitted sheets are hard for me because I can't lift the mattress.
I renovated my house to add rails in my bathroom. None of my floors are carpeted, so I can use my scooter inside. I just bought a new car—my 4Runner was getting too high for me, and now I can scoot comfortably in and out of my new one.
I teach seventh-grade English, and at school I have my own handicap parking spot. I can walk to my room, but I have to be careful that kids don't knock into me, or I'll fall. I sit and stand throughout the day, but I take breaks. I can raise and lower my desk automatically. My principal got me a wheelchair for emergencies.
I've been teaching for 17 years now, and the best part of my job is the connections I make with the kids. A few of my former students have had LGMD or other muscle diseases, so I can I talk to them about it. I made a commercial for our school news program: 'Hi, I'm Ms. D. I have muscular dystrophy. Here are some things you'll notice.' It made the students more willing to share.
I do all this because growing up, some of my own teachers were supportive. One in particular, Mrs. Richmond, was my favorite. In the fourth grade, we'd gone on a field trip when my legs started hurting. She carried me on her back and let me eat lunch with her. She was so kind and compassionate, and I remember thinking, 'I want to be a teacher like that.'
That experience is part of why I try to connect with kids who are having a hard time, whether with muscular dystrophy or something else. If they walk differently, or speak or read differently, it's okay. We all have something about us that makes us unique. It makes the world a better place.
For me, it's important to acknowledge that even though LGMD is part of me, it doesn't define me. I used to try to hide it, and now I wish I hadn't. I still feel self-conscious if people stare, but I try to remind myself that it's okay. They're just curious.
It took me a long time to accept my disease. But a few years ago I found a therapist I felt comfortable sharing with. It's helped. I get a lot of support from my friends, and I'm rarely by myself. As the disease has continued to change and develop, I try to accept whatever comes."
---
In 2019, Daneal was awarded District Reading Teacher of the Year in her school district. A regular volunteer for the Muscular Dystrophy Association, she organizes her school's annual muscular dystrophy fundraiser. She lives with her mom and her 90-pound German Shepard, Dublin.