Image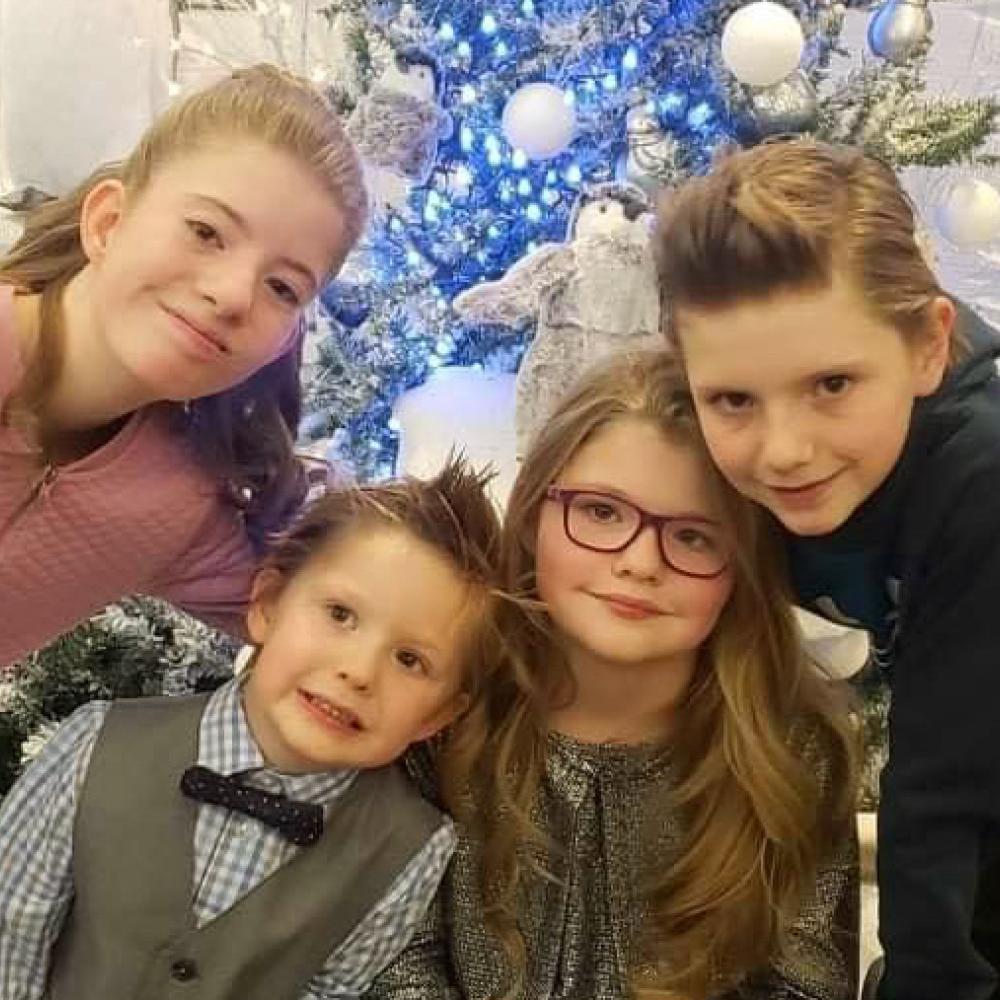 A story of inner strength: Raising two kids with LGMD
When a child is diagnosed with limb-girdle muscular dystrophy (LGMD), it can present new challenges and responsibilities for the parents. Mother of four and full-time caregiver Nicky describes her journey before and after her kids Savanna, 13, and Ryder, 11, were diagnosed with LGMD.
---
"Savanna and her twin sister, Kaylee, are one grade ahead of Ryder. When I was homeschooling the twins, Ryder would be right there, and it was almost like they were triplets. We have another son too, who's 6, and now he's Ryder's little best buddy.
There were complications with Savanna as soon as she was born. She and Kaylee have cerebral palsy. Kaylee is physically fine, but mobility was always an issue for Savanna. Her muscles were tight. As a toddler she could barely manage one or two steps at a time.
Savanna improved temporarily at age 5, after she had surgery to release the tightness in her muscles. But then she stopped progressing and even lost some of the gains she had made. She needed a wheelchair or walker to get around. She developed chronic fatigue and constipation.
Our family doctor and pediatrician associated Savanna's issues with her cerebral palsy. We live in rural British Columbia, so we traveled to doctors in California and other places looking for answers. But they all told us the same thing.
After pleading with my local hospital for two years, I finally got Savanna's creatine kinase [CK] levels tested—and they were through the roof. Then she had a biopsy, and when that came back positive for LGMD2E, the neurologist did blood tests with my other kids.
She called a few days later: 'I have some bad news.' I braced myself—for sure I thought she meant Kaylee. Instead she said, 'Have you ever noticed anything in Ryder?'
I couldn't believe what I was hearing. Ryder has always been so athletic. He has played baseball and hockey since he was five. But his CK levels were even higher than Savanna's.
That was several months ago, and now we can tell Ryder's muscles are deteriorating. He used to be the fastest runner in his class. Now he's the slowest. He starts to cry when you talk to him about it. But I hope he keeps playing sports as long as he can. He loves it so much.
Savanna's passion is music and other types of performance. She went to a songwriting camp over spring break and met some really cool kids. She wrote a song and sang it at the talent show at school. She has auditioned for movies and TV shows too. I've always told my kids, 'There's nothing I won't do to include you. Anything you want to do, we'll try to make it happen.'
When Savanna or Ryder are in pain or have trouble, I acknowledge it but also try not to make a big deal out of it. I don't say, 'It's because of your muscular dystrophy.' That just makes them feel like they can't do anything. So I try to be nonchalant—help Ryder into the car or carry Savanna down the stairs like it's nothing to worry about. Just part of life. When Savanna has a friend over, I keep talking as I'm getting her dressed or cleaning up an accident, so she and the friend aren't embarrassed.
It's like an image I saw on social media. A mom is holding a shield over her child, and there are missiles raining down on her. She's smiling down at her child, reading a book to him. She has to maintain this happiness, because she wants him to have the joy of childhood.
Life is just raining down on you sometimes. But that's my goal. For them to not even notice these things."
---
You can still find Ryder on the baseball field or hockey rink most days. And Savanna's big break is only a matter of time—she was recently called back for roles in a movie and a Netflix series. Through all their ups and downs, Nicky is right there to carry them forward and cheer them on.