Image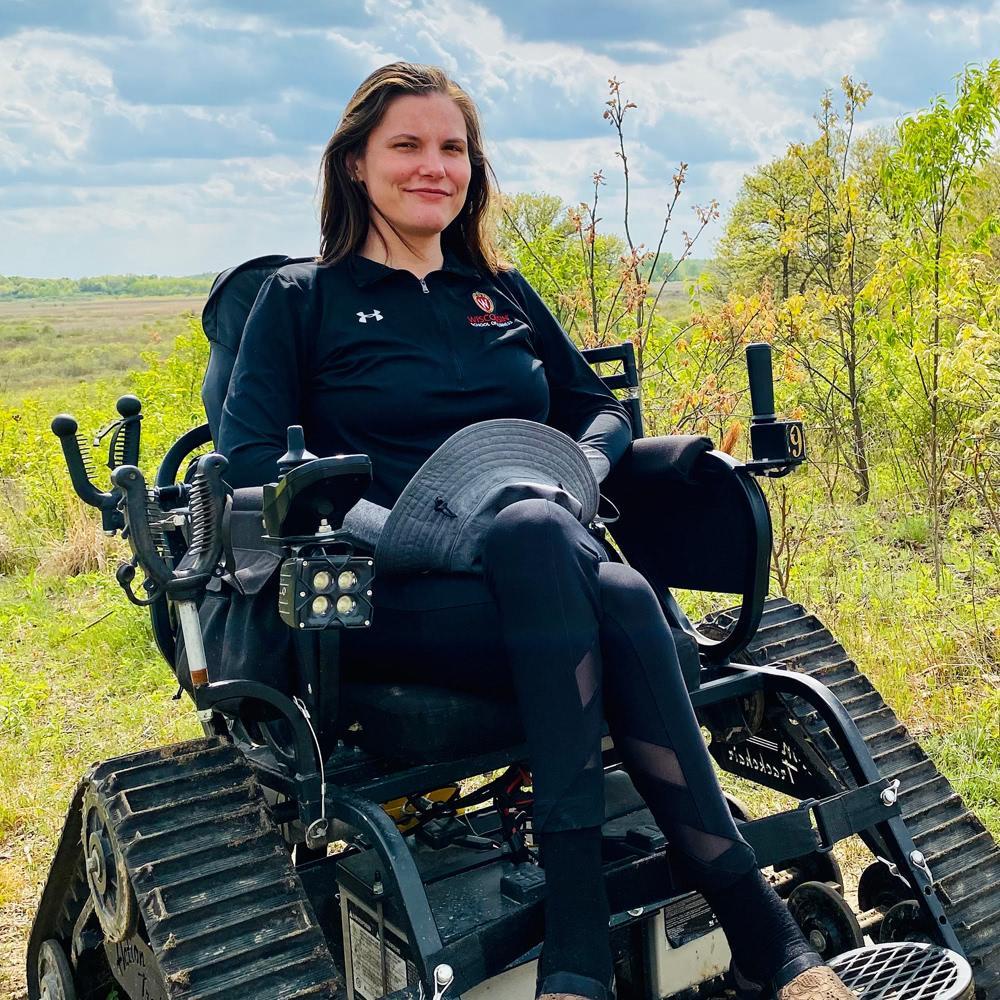 Diagnosed with LGMD, Alyssa advocates for accessibility and inclusion
Active throughout her childhood and early teens, Alyssa didn't think twice about her physical limitations. But a routine blood donation as a youth eventually led her to a diagnosis of limb-girdle muscular dystrophy (LGMD), and today she's a strong advocate for its awareness. Here's her story.
---
"When I was a kid, my friends and I used to laugh about the fact that I couldn't jump. We didn't know that it could mean something else. I was a very active kid and very involved in sports. Looking back, there were a few signs that something was different: compared to other kids, I was noticeably slower at sprinting, and I struggled to stand after a kneeling position when playing ice hockey.
When I was a senior in high school, I donated blood for the first time. A few weeks later, they sent me a letter saying I had elevated liver enzymes and recommended that I go in for further testing. My parents took me to see our family doctor, who was unsure of what was happening. Over the course of a year, I met with several out-of-town specialists and finally with the neuromuscular specialist who is still my doctor today. He knew that elevated liver enzymes could be a symptom of muscular dystrophy. He advised me on some of the next steps to take.
These days, genetic testing is the first step taken when muscular dystrophy is suspected, but back then the path was more complicated. I started with two muscle biopsies, in 2001 and 2002, and underwent a western blot [an analytical technique that separates blood proteins] in 2002. The lack of dysferlin in my blood sample on the western blot was the basis for my neurologist's diagnosis of dysferlin deficiency. I didn't do genetic testing for LGMD until 2009, but when I did, the results confirmed it. My subtype was LGMD2B.
It was hard news to get, but my friends and family were very supportive. I also connected with the Jain Foundation, a nonprofit with the mission to cure muscular dystrophies like mine.
The most impactful support came from a conversation with my sister, who believes that societal opinions shouldn't drive how we view ourselves. She reminded me that it's okay to have a body that's different from most people. It's not good or bad; it's just how it is.
That stuck with me, particularly as I started to experience changes in my mobility. It helped form a positive mindset that allows me to rise above the negative messages about disability that are so pervasive in our culture.
From the start, I was active in learning about my condition. Being a part of the Jain Foundation, attending patient conferences, and finding community have been very rewarding. It's made a difference for me at my job by making me more aware of issues faced by people living with disabilities, and it's given me the confidence to self-advocate.
In the years since my diagnosis, I've become more aware of the challenges my condition brings, but also of my own ability to adapt and live a really rich life. For example, I'd been worried that I couldn't have children, but I've had two daughters. With pregnancy came concerns about how I could securely hold and carry them. There's always this fear of not knowing what my body may do. But I started using a motorized wheelchair that allows me to safely care for my children. I adapted, I can still be the parent I want to be, and my kids love it. My second child took most of her naps on my lap in the wheelchair until she was about 3 years old.
I also rely on a walker that allows me to take walks with my family around the neighborhood. I use it to do laps around the building at work. Staying active and keeping up with healthy habits, like swimming, have helped so much.
I do miss the ability to prepare meals for my family or do household chores. Believe it or not, I miss being able to do housework! It surprised me how impactful that loss of autonomy was. But I have a great support system in my husband, family, and community.
My advocacy work has inspired many aspects of my life. As both my awareness and my symptoms have increased, it's fed my need to be a stronger advocate for myself and others. I've come to realize that it's important to be aware of what it means to live with LGMD, but it's only one facet of my life that includes so much more."
---
Alyssa is a senior manager at an insurance company. She is a dedicated advocate for fellow employees with disabilities, helping them feel positive about their work environment. She enjoys being outdoors with her family, whether taking her powered wheelchair onto the ice to hit a few pucks or maneuvering an all-terrain wheelchair on a rocky trail.